Caribbean islands have formed the backbone of our Black History Month features and we've been looking at 2 islands every week.  Today we look at St Lucia and the Dominican Republic.
St. Lucia
History
St Lucia became a major prize in the British-French rivalry for control of the Caribbean and its lucrative sugar economy.  During the 17th and 18th centuries England and France were at war fourteen times, during which control of the island switched seven times.  At one point St. Lucia was considered so valuable because of its sugar production that the British and French were willing to trade all of Canada for the island.
The sunshine, the combination of beautiful tranquil beaches, lush rainforests, and vertical cliffs; St Lucia is the place to go if you're looking to escape it all. Whether you choose to fly direct, stop off on a cruise or just pop over from one of the neighbouring islands, you will find a warm Saint Lucian welcome awaits.
Located in the eastern part of the Caribbean, St. Lucia is an island nation that is home to some of the most luxurious resorts in the world. With gorgeous beaches, lush rainforests, fishing villages, mountains to climb, St. Lucia has a lot to explore for the adventurous at heart.
Travel
JADE MOUNTAIN/ANSE CHASTANET
High on Morne Chastanet, overlooking St. Lucia's Piton World Heritage site and the Caribbean Sea, JADE MOUNTAIN is ANSE CHASTANET'S exclusive resort within a resort. ANSE CHASTANET's architect owner, Nick Troubetzkoy, has expanded upon his philosophy of building in harmony with Caribbean nature and environment by introducing a new level of sophistication in the design of JADE MOUNTAIN with its extraordinary infinity pool sanctuaries.
You can expect grand sweeping spaces beyond your imagination, with your bedroom, living area and extravagantly sized private infinity edge pool gliding into one another to form an amazing platform floating in space, with the 4th wall missing entirely – the result is a stage-like setting from which to embrace the full glory – and infinite views – of St. Lucia's twin Pitons and the shimmering Caribbean Sea – a view you are not likely to ever forget.
Famous St. Lucian making a difference
Mala Bryan, The Saint Lucian Model Making Dolls with an Afro-Caribbean Twist – Saint Lucia-born beauty Mala Bryan is currently getting a lot of attention for her Malaville Toys collection, a line of dolls inspired by her Caribbean heritage, and a desire to inspire little girls through self-visualization.
Reading
A History of St Lucia is the first-ever detailed and comprehensive record of St Lucia's turbulent past.
Beginning with the island's geological formation and subsequent Amerindian occupation, this book takes one through colonization by France and England to the rise and fall of the sugar industry, the tribulations of slavery, the feverish hopes and fears of the Brigand Wars and, eventually, Emancipation. After 1838, St Lucia's newly freed people went in search of independence, dignity and respectability: an era marked by the immigration of indentured workers from Barbados, Africa and India, the rise of a peasantry, and a labouring class in search of new horizons. The arduous battle with 'Mr Hard Times' formed fertile soil for a hard-fought coming of age in the 20th century when unions and political parties developed amidst the turmoil of two World Wars and a city's Death by Fire. Forcing 'King Sugar' to his knees paved the way to a new St Lucia, built on the 'green gold' of the banana industry – an era which in many ways came to an end in 2007 with the passing of the architect of independence, Sir John Compton.
Dominican Republic
History
Dominican culture is as varied and colorful as the land itself, created from the legacy that came together in the country's development, forming the basis of the cultural and social identity of the people. Different ethnic groups merged in the fascinating development of the history of the Dominican Republic to give life to its unique and vibrant culture. The influence by European, African and indigenous Taino and many others is interwoven and expressed in the country's art, music, gastronomy, sport and religion, resulting in unique expressions that shaped the identity of the Dominican people.
Travel
Since it opened in La Romana almost 50 years ago as the first resort in the Dominican Republic, Casa de Campo Resort & Villas has been a favorite luxury destination for discerning travellers and celebrities the world over. Known as the best golf resort, the 3 Pete Dye golf courses include Teeth of the Dog, which is the #1 ranked course in the Caribbean. The activities are all world class — 7 outstanding restaurants including the stunning new Minitas Beach Club, a Marina, Equestrian Center featuring Polo, Shooting Course, great shopping and 3 private pristine white sand beaches.
So many ways to stay!
The elegant accommodations include hotel rooms, suites and a large array of spectacular villas with private pools in lavish settings, ideal for groups and family celebrations. There are special packages suited for every vacation, like the Inclusive Experience package with a selection of dining options, beverages and resort activities and a golf cart, included in your rate.
If you want the best, the most and the first in the Caribbean, your Casa de Campo experience awaits.
Famous Dominicans
Hollywood star Zoe Saldana was born in New Jersey to a Dominican father and a Puerto Rican mother. She has featured in blockbuster movies including Star Trek, Avatar, Colombiana, Guardians of the Galaxy, just to mention a few.
Juan de Dios Ventura Soriano Widely known as Johnny Ventura or "El Caballo Johnny Ventura", he is a very popular Afro-Dominican merengue and salsa artiste. Johnny was also vice mayor of Santo Domingo from 1994 to 1998, and mayor of Santo Domingo from 1998 to 2002.
Amara La Negra Singer, model and 'Love & Hip Hop: Miami' star Amara La Negra is of Afro-Dominican descent.
Reading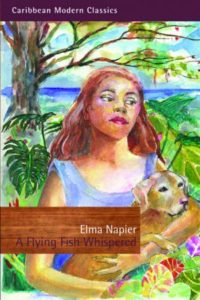 Elma Napier was born in Scotland, but she is ranked among the writers of Dominica—she moved to the island at age 40 in 1932 and went on to become the first woman elected to a Caribbean parliament. The person who introduced me to Napier's work said, "From Dominica, you've probably only heard of Jean Rhys." At the time, this was true. So I had to read her. Her work is not as easy to find, but A Flying Fish Whispered was worth the wait. The heroine, a 29 year old widow named Teresa Craddock, comes to an unnamed Caribbean island to live with her brother. Over time, she becomes less of a "tourist" and more involved in life on the island. She begins to develop feelings for an older, married man, but she comes to realize that his attitude towards the neighborhood, black people, and women would make it impossible for her to have a love affair with him. I enjoyed the fact that the author dealt with my favorite themes—gender and racial inequities—in a quite unusual and exquisite style.
I love that we're celebrating Black History Month in the UK in a different way. Our rich cultural heritage begs to be brought to the forefront. These are the places of our ancestors. This is what being black of Caribbean descent is all about. Do you have any stories or anecdotes about the islands? Have you sat at your grandparent's feet listening to stories? I'd LOVE to hear them… let's talk about this on Facebook,Twitter, and Instagram!