Christmastime is here with all the stress that brings. But the holidays don't have to be overwhelmingly hard.  Bring a wee bit of cheer with not a lot of elbow grease this holiday season with my top Holiday Hacks. Making your life easier has never looked so cute!
A few of my favorite things… 
Wrapping paper can be expensive and a little bit over-the-top with all the designs and glitter and… yeah. Keep it simple and elegant with a large roll of brown paper and string. You'll be lauded as classy and charming and chic, with this minimalist hack.  Hey… if it was one of Maria von Trapp's favorite things, it's okay with us.
Simple, elegant snowflakes… with a little glue and a lot of ingenuity.
Create these beautiful, elegant and simple snowflakes with just your glue gun and some spare time (if you have any)!
Hannah at We Lived Happily Ever After shows you this easy and beautiful process…
Ridiculously easy, yet adorable gift tags.
Running to the paint store? Snag up some paint chips in festive colors and voila! Easy, crafty holiday gift tags.
Make even your fridge festive! This couldn't be any easier. Get some paper and tape and let your kids go at it. Instant cheer that can last all winter long.
"Cut it out" for the most excellent hot cocoa!
Grab some large marshmallows and your cookie cutters and get busy. Everyone will love this tiny little touch of Christmas cheer.
Fun for the kids…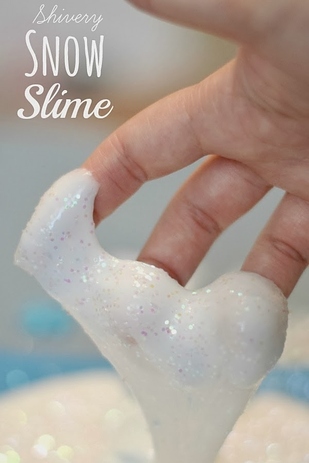 Need some grown up time? Want to keep your kids occupied for a bit? All you need is some Elmer's glue, borax, and lots and lots of glitter. Find the recipe here.
Fun for the adults… 
Oh my yes. A lovely little Christmas treat for the grown folks in your life… and maybe even you. Hey, you deserve a treat too, being the Hostess with the Mostest isn't easy.
Ridiculously simple, edible, and festive Don't want to do the whole roll out cookies with all the mess it entails? Try these simple brownies. Pour in the batter add some decorations and you're good to go!
Merry and Bright!
Hot glue two candy canes together add a bow and you have the perfect place card for your holiday festivities.
A little tape + A little patience = an easy Christmas manicure. Want to feel festive but don't want to hit the nail salon? This is simple, adorable, and (relatively easy). If you don't want to do all your nails, one or two Christmasy accent nails will do.